Fifth graders at Lincoln Elementary decided to have a penny drive to support the American Red Cross, as a way of modeling the September Pillar of Responsibility.  Hurricane relief and homelessness were specifically named as the highest priorities for the support.  The event ended with a popcorn day.  Every student received a bag of popcorn and donations were accepted.  In total, $661 was raised toward the cause.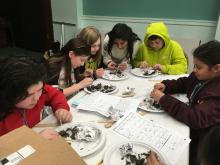 Over 30 Lincoln 5th grade students have been attending STEM Camp for 2 hours after school Monday-Thursday for 3 weeks in January. 
The Mt. Vernon School district is running the free Afterschool Science, Technology, Engineering and Mathematics (STEM) Camp for any and all 5th Graders enrolled in a Mt. Vernon School!